About CalTeach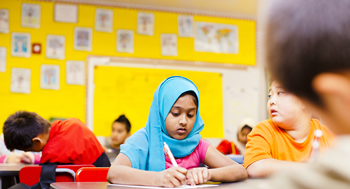 While each CalTeach program reflects the distinct character and history of each of the nine campus programs and 28 community college partnerships, all programs are bound by eight essential components that represent best practices in undergraduate teacher preparation.
---
Equity in STEM Teaching and Learning
CalTeach provides California's diverse spectrum of K–20 students with high-quality STEM instruction, through multiple teacher-education pathways. Whether they enter UC as freshmen or by transfer from a community college, graduates become effective STEM educators, equipped to meet the needs of 21st-century learners.
Recruiting and Advising
CalTeach offers courses, fieldwork, mentoring, internships, networking and research opportunities to engage undergraduate and community college STEM majors who are considering teaching careers. CalTeach campus resource centers can become hubs for these activities, with special significance to students from underrepresented backgrounds.
Coherent Curriculum
The CalTeach program imparts strong content knowledge as well as pragmatic skills to prospective K–12 teachers, including how to support high-need students, ELLs and students from diverse cultural backgrounds. For low-income college students earning their teaching credential, the program's shorter completion time can be particularly valuable.
Field Experiences and Mentor Teacher Support
Mentors and instructors lead CalTeach students through courses and field experiences that enable them to progress from being passive observers to becoming active participants. These teachers may receive a stipend or in-kind professional development in exchange for their time and expertise, and CalTeach students may receive financial support to offset the costs of becoming a STEM teacher.
STEM Community Partnerships
CalTeach sites partner with school districts, community colleges and other institutions to advance shared goals for STEM teaching and learning. These partnerships meet local needs for STEM teacher recruitment and preparation for high-need schools while providing general support for students and their communities.
Teacher Professional Growth Experiences
The CalTeach experience continues to resonate with students long after a session ends. Graduates may join professional networks to refresh their teaching and are encouraged to participate in ongoing seminars, workshops, and lab and field research that will deepen their practice as STEM educators.
Ongoing Program Evaluation and Research
CalTeach educators and leaders routinely collect and analyze program data. The results are used to assess and improve the program's effectiveness across UC campuses with regard to STEM teacher recruitment, preparation and retention.
Faculty Leadership, Collaboration and Research
Collaboration is a key aspect of the CalTeach model — collaboration across subject disciplines, workplace roles, UC campuses and other institutions. Faculty leaders and campus administrators emphasize cooperation in the development of STEM teacher education to support future teachers.