Diversity
CalTeach graduates in STEM majors are highly diverse
In comparison to all STEM majors at UC, CalTeach graduates are more diverse across demographic indicators, including gender, ethnicity and families' college background.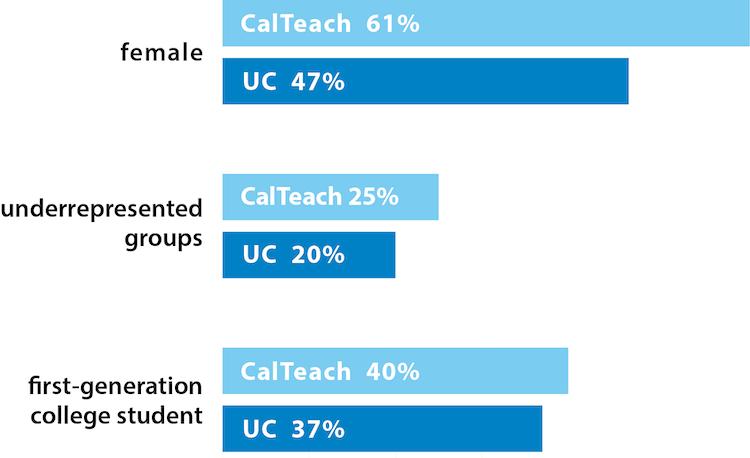 In keeping with the program's mission to prepare educators who themselves reflect the growing diversity of California students, nearly three-quarters of 2017–18 CalTeach STEM graduates were from underrepresented* or Asian backgrounds.
---
CalTeach participants are working in high-need schools
In 2017–18, CalTeach students participated in field placements in more than 200 K–12 schools ranging widely in economic and educational characteristics, where they gained real-world classroom experience. More than 30 percent of field-placement hours were earned in high-need schools designated as having LCFF+ status, meaning that more than 75 percent of students are identified as English learners, foster youth and/or qualify for free/reduced-price meals under the National School Lunch Program (NSLP).** 
*Includes African American, Chicanx/Latinx, American Indian and Alaska Native.
**LCFF+ replaces API decile ranks 1–5 as a definition of "high-need."